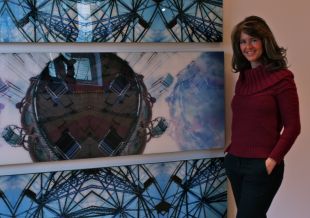 Visual Artist and Photographer Nadine Hennelly
Nadine Hennelly was born and raised in Montreal. Before leaving Montreal for Paris [where she lived for 2 years], Nadine was a Fine Arts Major at Dawson College. In Paris Nadine embarked upon a very successful career as a TopModel. She soon moved to NYC and began modelling for all the top American and European fashion Magazines. Appearing on the covers and editorial features for ELLE, VOGUE, HARPERS BAZAAR, COSMOPOLITAN, SELF, GLAMOUR and MADEMOISELLE. As one of the first models from Quebec to achieve international recognition and success, Nadine paved the way for future generations of Quebecois Models wishing to work internationally. Working with Photographic Legends such as Gilles Bensimon, Arthur Elgort, Richard Avedon, Mario Testino, Albert Watson, Steven Meisel, Peter Beard and Toscani helped to shape Nadine's understanding of what it takes to make a great photograph. She learnt much about light, mood, composition and direction from these great artists.
While living in New York City, Nadine continued her artistic education. She studied at NYU, The Sculpture Center, The Art Student's League and The New York School of Interior Design. She worked alongside composer Philip Glass at The Kitchen, an alternative interdisciplinary arts center, as the special events co-ordinator culminating in his 60th birthday celebration. During this time, Nadine Hennelly was creating stone and clay sculptures which were exhibited at the Alexandre de Folin Gallery in Chelsea [NYC], where almost all of the works sold on opening night. From 1994-2004 Nadine appeared nightly in skits as a model and actress on the Late Show with David Letterman which allowed her to pursue her photography during the day. She quickly started being hired by the top modelling agencies in New York City to shoot their fresh faces. American Photo Magazine singled her out as an up and coming photographer to keep an eye on, and she began shooting portraits and fashion spreads for various American and International publications.
Nadine relocated to Montreal with her young son in 2007. In 2008 she returned to creating her art work full time, launching "Series 1" of her ongoing series of Urban Abstractions at STUDIO H. Exhibiting and selling her work in Montreal and Westmount [NUIT BLANCHE 2010 and ARTWESTMOUNT]. She recently joined Saatchi online gallery, to facilitate selling her work internationally. Nadine enjoys being involved in the vibrant cultural life of Montreal, and when not working can be found at the various festivals and cultural events. She has volunteered her time to the Fondation les PETITS ROI, the Alzheimer Group, made donations to Garde-Manger pour Tous, and as a committee member for the Montreal Museum of Fine Arts.


To see a full Portfolio of Nadine Hennelly's Fashion and Portrait Photography please CLICK HERE
Nadine Hennelly est né et a grandi à Montréal.
Elle a fait ses etudes en arts plastiques au Collège Dawson, avant de quitter Montréal pour Paris [où elle a vécu pendant 2 ans], et lançent une carrière très réussie en tant que Topmodel.
Elle a rapidement déménagé à New York et a commencé à travailler pour tous les top magazines de mode Américains et Européens.
Apparaissant sur les couvertures et les caractéristiques de rédaction de ELLE, VOGUE, HARPERS BAZAAR, COSMOPOLITAN, SELF, GLAMOUR et MADEMOISELLE.
Comme l'une des premieres mannequin au Québec à obtenir la reconnaissance internationale et le succès, Nadine a ouvert la voie aux futures générations de mannequins québécois désireux de travailler à l'international. En
travaillent avec les légendes photographiques tels que Gilles Bensimon, Arthur Elgort, Richard Avedon, Mario Testino, Albert Watson, Steven Meisel, Peter Beard et Toscani a contribué à façonner la compréhension de Nadine de ce qu'il faut pour faire une belle photo.
Elle a appris beaucoup sur la lumière, de l'humeur, la composition et la direction de ces grands artistes.
Pendant son séjour à New York, Nadine a poursuivi ses études artistiques.
Elle a étudié à NYU, The Sculpture Center, The Arts Student's League,et The New York School of Interior Design.
Elle a travaillé pour le compositeur Philip Glass à The Kitchen, [une alternative centre interdisciplinaire des arts], comme
coordinateur
des événements spéciaux, culminant dans la célébration de son 60e anniversaire.
Pendant ce temps, Nadine Hennelly créait des sculptures en pierre et d'argile qui ont été exposées à la Galerie Alexandre de Folin à Chelsea [NYC], où presque toutes les œuvres ont vendues la soirée du vernissage.
De 1994-2004 Nadine apparu les soirs dans des sketches comme un modèle et comme actrice sur le Late Show avec David Letterman qui lui a permis de poursuivre sa photographie au cours de la journée.
Elle a rapidement commencé à être embauchés par des agences de mannequins à New York pour tourner leurs nouvelles mannequins.
Nadine

a

relocalisé à Montréal

avec son jeune fils

en 2007.

En 2008

elle est retournée à

la création de

ses ouevres a temps plein

,

et lance "

série 1"

de sa

série en cours d'

Abstractions

urbain

au STUDIO

H.

Elle continue d'

exposer et de vendre

ses ouevres

à Montréal

et a Westmount

[

NUIT BLANCHE

2010 et ARTWESTMOUNT

]

.

Elle a récemment rejoint

Saatchi

Galerie online

, afin de faciliter

la vente

de son travail

à un

niveau international

.

Nadine

aime être

impliqué dans la vie

culturelle vibrante

de Montréal, et

lorsqu'elle ne travaille pas

peuvent être trouvés

à

divers festivals

et evenements culturelles.

Elle a

fait don de son

temps

aux

Fondation LES

PETITS ROI, le Groupe

d'Alzheimer

,

fait des donations d'art

au

Garde-Manger pour TOUS

,

et en tant que

membre du comité

pour le

Musée des Beaux Arts a Montreal.
Pour voir un Portfolio complet de les Portraits et de les Photo de Mode de Nadine Hennelly veuillez CLIQUER ICI